The bending phenomenon of extruded blanks may be due to insufficient flow path in the head or misalignment of the head centre and the rolled edge phenomenon, which is mainly caused by unreasonable head temperature control or too high temperature of the mouth die. The following is a detailed description of the problem and the solution.
1. Why are extrusion parisons prone to bending? How should we solve them?
(1) Main reasons for bending of prison
①The flow path of the head is not smooth, or the centre of the die is not correct. The gap between the die and mould is large and small. The parison will bend towards the side of the gap of the die.
②Uneven heating of the head makes the temperature of the melt uneven, resulting in the inconsistency of the tensile strength of the extruded parison due to the weight droop.
③The extrusion rate is too fast, resulting in the accumulation of molten material at the die, resulting in bending of prison.
(2) Solutions
①Check the head runner and adjust the centre of the die to make the die gap uniform.
②Adjust the heating temperature distribution of the head to make the parts evenly heated.
③Reduce extrusion rate.
 
2. Why does extrusion blow molding parison appear a crimping phenomenon? How to solve it?
 
The curling phenomenon of extrusion blow molding parison is mainly due to the unreasonable temperature control of the head, resulting in the difference in the temperature between the internal and external surface of the parison. When the extruded parison is rolled to the inside, it may be the die temperature too high. If the parison is moved outward, it may be the mold core temperature is too high.
The primary way to solve the problem is to control the temperature of the bush die and the core mold and keep the temperature of each part uniform. When the extruded parison is rolled to the inside, the bush die temperature should be lowered. If the parison is flanged outwards, the mold core temperature should be reduced appropriately.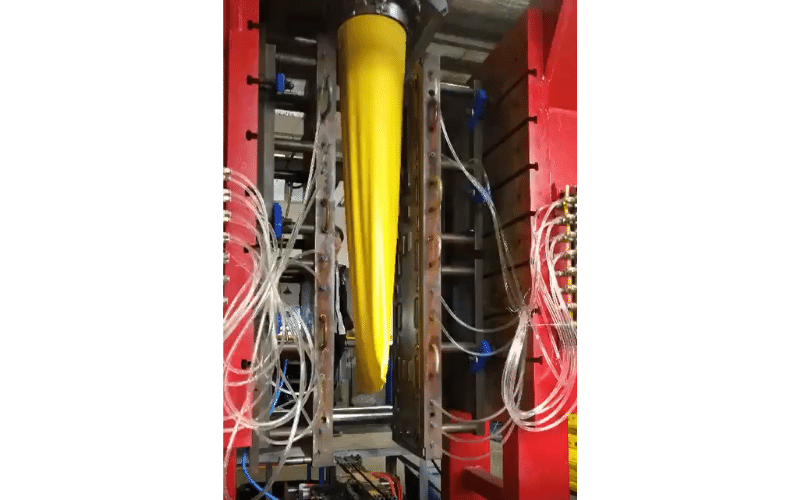 3. Why is the parison easily cracked during inflation, and how should it be solved?
(1) The main reason for the breakdown.
①The blow-up ratio is too large. When the parison size and quality are constant, the more significant the blow-up proportion of the parison is, the larger the container size. The thinner the wall thickness of the product is, although it can save raw materials, it will become challenging to expand, and the strength and stiffness of the products will be reduced.
②The parison is eccentric, the wall thickness of the parison is uneven, the wall thickness is small, and the rupture phenomenon is easy to appear under the same blowing ratio.
③The rate of parison extrusion is too slow, resulting in parison sagging and uneven wall thickness.
④Blow moulding is too slow after mould clamping.
⑤There are scars in parison.
⑥Mixed with other raw materials or impurities.